State Secretary Dr. Magnus Brunner, LL.M. visits MS "Renaissance"
Sep 22, 2021
On September 7th 2021, the CEO of the First-DDSG Logistics Holding, Dr. Viatcheslav Vdovitchenko, cordially welcomed the representatives of the Austrian federal Ministry for Climate Action, Environment, Energy, Mobility, Innovation and Technology Dr. Magnus Brunner LL.M. (the State Secretary), Mr. Wolfgang Kieslich and Ms. DI Vera Hofbauer on board of our historical vessel MS "Renaissance", and together with the members of the management team introduced our vision and our ideas regarding the perspectives for decarbonization in the inland navigation.
Concepts for possible solutions, such as switch from diesel to hydrogen or e-fuels, were presented and broadly discussed with the guests.
Taking into consideration all the thoughts and opinions shared at the meeting, as well as the political-economic situation in Europe and its forecasts, we are ready to take the next steps on the subject of CO2-neutral transport solutions.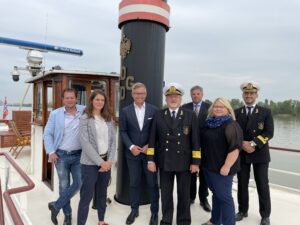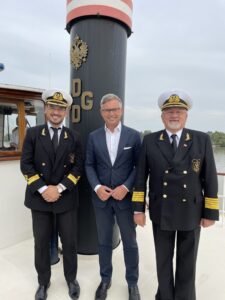 Facebook
LinkedIn
Twitter